Cincinnati's Premier Well Pump Repair Experts Since 1985
Having a well water system installed in your home has many upsides, including direct access to clean, fresh water and a lower monthly utility bill. However, it also requires more intimate knowledge of how your water system works. Well water systems can be confusing, and you need expertise you can trust—here at G&R Plumbing, we offer only the highest quality well-related plumbing services, including well pump repair, replacement, and cistern installation.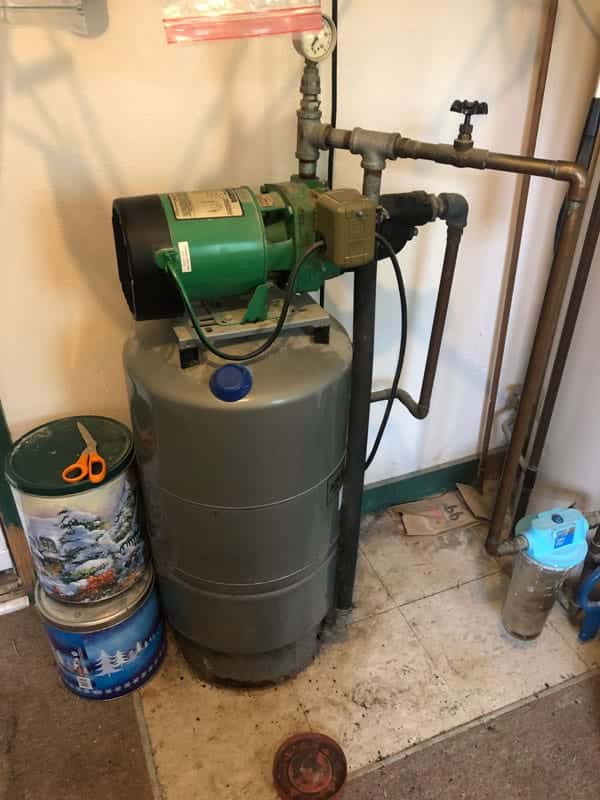 Defining Well Water
Wells in the 21st century look quite a bit different than the pulley and hand pump systems of our forefathers—and while they're significantly more convenient to use, they're also a little more complex in their setup and functioning.
A well is defined by its access to a subterranean cache of groundwater known as an aquifer, the source from which it draws and routes water into the home. From there, groundwater flows through the water line and into a complex electromechanical system to be readily accessible via the faucets and spigots of your home.
Evaluating Whether a Well System Is Right For You
Benefits and Trade Offs
A major bonus of forgoing municipal water for your own water supply is the lack of a monthly water bill. The groundwater from an aquifer tends to be fresher and purer and is also comparatively supercharged with natural nutrients and minerals, which lends to its highly refreshing taste. In areas prone to flooding, the groundwater from a well will remain relatively sanitary compared to water from municipal sources in the event of emergency inundation.
However, well water does have its drawbacks and requires a little more sweat equity and familiarity with all the water supply system's moving parts. The threat of poor water quality is ever-present, with chemical pollutants, biological waste, sewage, and agricultural runoff posing much more danger than in standard municipal water supply systems. The burden of water quality and availability is placed squarely on the homeowner's shoulders, and well water should be tested regularly to ensure its nontoxicity.
Getting To Know A Well System's Essential Parts
Modern wells are a marvel of sophisticated engineering, with electrical power working alongside advanced innovations in irrigation. All well systems are composed of the same essential parts, and below we'll go over some of the more crucial components of your well's system.
Well Pump Types: Jet Pump vs. Submersible Pump
Most domestic wells are powered by either a jet pump or a submersible pump, and the height of the local water table will determine which is a better choice for your home. Both submersible pumps and jet pumps have pump motors and an internal check valve mechanism, the latter of which prevents a reverse flow of water back into the well.
Shallow well pumps, or those with a depth of less than 25 feet, will be best served by a jet pump. For well depths of 25 feet or more, a submersible pump is recommended.
Well Pressure Tank
Your well's holding tank is one of the most critical parts of your system. Most pressure tanks keep a reserve of water in the home between 10 and 60 gallons, making it so that the well pump outside activates every time someone turns on a tap. The tank body's steel construction lends to its durability, and most have a polypropylene liner to circumvent unusual odors and tastes.
Pump Control Box
Perched atop a submersible well, pump control boxes perform various functions in a submersible pump system, including rapid cycling prevention and moderation of water flow. Together with the pressure switch and pressure tank, the pump control box ensures that the pump is only in use when necessary.
Undervoltage and overvoltage are two of the most common problems in a well pump system—the pump won't function if the voltage is too low, and extremely high amplitudes can damage your pump. Pump control boxes therefore also act as something of a failsafe, helping protect pumps from extreme voltage fluctuations caused by short circuits and cases of overvoltage.
We recommend always keeping a voltage tester on hand for this reason, as improper voltage is one of the most common issues that can create problems in your submersible pump.
Pressure Switch
The pressure switch serves as a barometer for pressure fluctuations in the water line, and is the electrical component responsible for activating your well pump when water pressure falls below a minimum threshold.
In most homes, water pressure will range between 40-60 psi—dropping whenever a faucet is in use—and together with the control box and pressure tank, the pressure switch measures the well's overall water pressure. When the water pressure reading dips below 40psi, the pressure switch turns on the pump; the pressure switch deactivates the pump automatically after an adequate water level is reached.
In the case that your pressure switch isn't working correctly, it's best to call a professional. As one of the more intricate electrical elements in a well system that's also connected to live power, it's all too easy to seriously injure yourself.
Give us a call today to discuss all your well system-related needs!